Pagan Black
Ravenhelm
Tracklist
1.

As The Runes Paint the menhir
2.

Echos From Ancient Glory
3.

Winter
4.

Runemal
5.

My Heathen Heart
6.

Across Njords Blue
7.

Across Njords Blue part 2
8.

Through Pagan Mist
9.

The Voyage
在中文中没有找到相关文章, 英语部分的文章已被显示

评阅 @ hack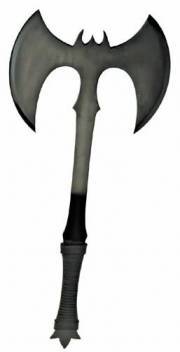 28 九月 2010
One man black metal bands are about as common as flies are on a rotting corpse. But here is a one man blackened pagan/folk band for a refreshing change. The man behind the music is Munnin The
Impaler
. He is of German extraction and is based in Southern California, of all unlikely locales for a pagan folk metal band of this caliber.The name,
Ravenhelm
, can be construed to mean the "plunderers position of control". That description befits the subject matters that are undertaken in this music.
Runemal
is the 2nd full length album from
Ravenhelm
. It takes us back to the the sword swinging and shield crashing days of ancient Germania. These epic stories are mingled with a heathen ideology of wotanism and runecraft.
Right off of the shield, the first thing that strikes at me is the folksy flute music. It exudes the atmosphere of a renaissance festival, with catchy melodies, like you would hear on an
Arkona
album. This is soon paled with the rude awakening of the killer guitar leads, which are heavily distorted. Sometimes they have the heavy impact of a battle hammer and at other times they shred violently. But they always rock with head banging rhythms. The drum playing isn't so remarkable, although it is adequate. It wasn't meant to be a focal point on this release, anyway. Munnin hired Melchizedek as a session drummer for this recording.
The vocals offer a huge entertainment value in themselves. They are blatantly exaggerated and could be used as voices for cartoons. The grim voices sound extremely throaty and portray the characters of bloodthirsty warriors. The clear voice plays the role of a pagan priest and sounds very satirical, with the geeky chanting.The guitar solos are very complex, with tricky stutter melodies, and flamboyant picking patterns. Synthesizers and acoustic stringed instruments(other than a guitar)are used to embellish the ambiance. All of these interrelated parts revolve cyclically, like a wheel, to make for an interesting synergy of song structures.
A pervading atmosphere of pagan magic is conveyed throughout this album. There are many dramatic changes within these 50 minutes of music. It's so rich in content, that it's hard to immediately press the replay button, without taking a break.
Runemal
really is an uncommon release. Buy this one, if you can find it.
Other productions from Ravenhelm
Other famous albums in Pagan Black