Hard Rock
Cheap Trick
Tracklist
1.

I Want You
2.

One on One
3.

If You Want My Love
4.

OO La La La
5.

Lookin' Out for Number One
6.

She's Tight
7.

Time Is Runnin'
8.

Saturday at Midnight
9.

Love's Got a Hold on Me
10.

I Want Be Man
11.

Four Letter Word
在中文中没有找到相关文章, 英语部分的文章已被显示

评阅 @ kastas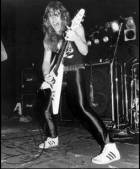 24 六月 2008
Hard Rock legends
Cheap Trick
teamed up with QUEEN producer Roy Thomas Baker to produce one of their most rocking albums,
One on One
. As sadly underrated album,
One on One
contains some of the bands heaviest yet chachiest material. Although never seen as an out-and-out metal band,
Cheap Trick
always walked the fine line between
Power
Pop, Hard Rock, Pop and
Metal
. "
I Want You
" opens the album with an uptempo rocker that would have been perfectly in place on their debut album or even on "
Heaven Tonight
". Thanks to Roy Thomas Baker's punchy production, the song is a perfect pop-metal gem. The album's title track follows much in the same vein, with a more metallic riff and awesome Robin Zander vocals. Next is "
If You Want My Love
", the album's major single. Imagine a beatles up beat ballad with a top notch production and you'll get an idea of this song. Unfortunately, these were the type of songs that either Epic records or the band pushed as singles, instead of opting for more rocking songs. Other highlights inclued the second single, "
She's Tight
". This time the single is more in line with the bands true sound, more rocking. POISON ripped the main riff of this song off some years later but in no way sounds as punchier as on the original. "
Saturday at Midnight
" is a nice attempt at doing something more dance oriented, while still sounding like
Cheap Trick
. "Love's Gotta Hold On Me" has an odd THE CLASH influence. The last two songs on
One on One
are some of the most rocking stuff the band has ever done. "I Want Be Man" is an uptempo rocker with some weird time changes. "Four Letter Word" on the other hand is probably one of the band's most "metallic" songs. A mixture of vintage AC/DC and MOTÖRHEAD, "Four Letter Word" ends the album with a bang.
One on One
is sadly a very underrated album. Most diehard fans either root for their earlier work or their most commercial albums.
One on One
has a nice balance of catchy hard rock and memorable power pop. It should please fans of their old stuff and their most commercial side.
Other productions from Cheap Trick
Other famous albums in Hard Rock