Grindcore
Anal Cunt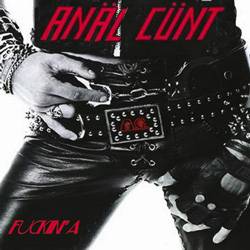 Владельцы этого альбома
17
Tracklist
1.

Fuck Yeah

02:06

2.

Crankin' My Bands Demo on a Box at the Beach

04:27

3.

Loudest Stereo

02:56

4.

Kickin' Your Ass and Fuckin' Your Bitch

02:17

5.

Hot Girls on the Road

02:02

6.

Whiskey, Coke and Sluts

03:06

7.

All I Give a Fuck About Is Sex

01:46

8.

I'm Gonna Give You AIDS

03:13

9.

Yay! It's Pink!

02:35

10.

I Wish My Dealer Was Open

05:25

Total playing time

29:53
Нет статьи, созданной на русский, показаны статьи из раздела на английском

Обзор @ GandhiEgo
Vince Neil developed some atrocious throat cancer!
Anal Cunt
. If you're into
Extreme
Metal
and never heard of the name before, you've probably lived in a cave. Or most likely never were into
Extreme
Metal
to start with. Putnam's band, synonym for kind words and elegance, returns with yet another album "Fuckin' A".
Now if you know a bit your illustrated
Anal Cunt
, you'd most likely expect some noisygrind minimalist and short-as-fuck anthems with exuberant and provocative song titles. So then what happened to
Seth
Putnam and his acolytes? Is it the coming of age? Is it that suddenly their testosterone levels dropped dramatically? Besides "I'm gonna give you AIDS" nothing really strikes as provocative (that is in AC standards). The songs? Gee, did
Anal Cunt
gave into the latest craze for Doom
Metal
, songs above the five minutes mark! Unbelievable!
So yes, for those of you who were expecting another "
40 More Reasons to Hate Us
" or "
I Like It When You Die", beware as you'll probably have a hard time with "Fuckin' A". Though Putnam hasn't still turned out to be the next gen crooner, even he seemed to have cooled off a bit and some of the lyrics are even clear enough to understand.

Now, stand back and take a look at the artwork. Doesn't ring a bell? Yes, it's AC and not Motley Crue but then again the contents are very much Rock n' Roll as if the aforementioned Motley Crue would jam alongside good ole Gang Green with the HxC choruses in the back. Damn, it could almost be something from the mid-eighties. Except for the vocals where obviously Vince Neil developed some atrocious throat cancer and would be spitting bits of tumor here and there.

And all in all, wait there's musicianship! Fine, I didn't write Opeth or some "gay" (obvious reference to AC, no need to call off your local neighborhood) band. It's musicianship a la Anal Cunt but hey good catchy drumming, inspired rock solos, demented choruses. It's all there. And with the ending track, "I Wish My Dealer Was Open", you're even granted some kind of bluesy ballad that musically would have perfectly fit on AC/DC's High Voltage (and most likely Bon Scott would sing this way if we were to resurrect his rotting corpse).

Surprise, surprise. It's all about fun and good vibes. Fuckin' A is Anal Cunt's tribute to the Beach Boys and it's exhilarating. Forget whatever you think you knew about the band and enjoy it. Fuckin' A!



Other productions from Anal Cunt
Other famous albums in Grindcore