Slegest is a solo project by Ese, former guitar player of Vreid. The project started back in 2010 when he wanted to create music inspired on Black Sabbath using harsh vocals, which created a "classic heavy rock with old-school black metal elements". Since then, a self-title EP was released in 2012 and now in 2013, Slegest has finally released a first full length album.
Spirit of Metal had the chance to send Ese some questions about his project, his music, his new album and much more. Check it out!!!
First of all, let me congratulate you on this album! I felt in love with Løyndom on the first song… The entire album is intense and addicting. So, I have to ask you: how do you feel when listening to your own music?
Thanks a lot! Cool to hear that you like it! It has been a while since I listened to it, but the last time I did I became thirsty, hehehe. I am very satisfied with it and the feedback has been very good.
For all the readers out there who don't know Slegest yet, how would you describe your music?
Slegest music can be described as metal with roots in the classic heavy rock from the 70's and 80's and with sound similarities with black metal.
Slegest started just after you left Vreid. Was it a hard decision, to leave a more "established" band to start something completely new?
It was probably one of my hardest decisions ever but it had to be done. I had some personal challenges at that time that did not mix with playing in a band. In hindsight it is good to see that this has resulted in good things. In Strom Vreid found a more suitable guitarist for the musical direction the band has taken and for me Slegest surfaced, which is my biggest musical achievement so far.
How would you describe Slegest's trajectory, from 2010 until now?
I have wanted to do a solo project for quiet some time and in 2010 I had the time on my hands to start working with it. I have an old multi track recorder on which I have recorded ideas over the years. Mid winter 2010 I listened to some of these ideas and that triggered me to start the work on what would be the self titled EP released in 2012. The EP got good feedback and I pretty much right after releasing it started to work on all new material for Løyndom. As the songs took form I sent some of them to Dark Essence who later signed Slegest and now has released Løyndom.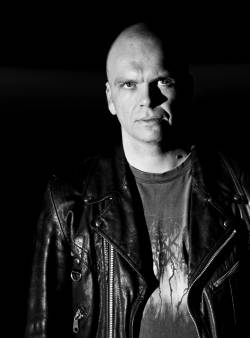 "#CCCCCC">You played all instruments on this album. This seems like a lot of work but also very gratifying. How was the process of writing and recording by yourself?
I like my own company, making music and recording music so I do not see it as work really. Apart from recording the drums, which I did in Bergen I have done all work on Løyndom in my own studio. That gives me the important privilege to decide on when I want to do what needs to be done. When it comes to playing all instruments that is also something a stubborn asshole like myself find enjoying, and in that way I always know that everyone shows up for rehearsals, hehehe.
Not having band mates give you total freedom, but, is it hard writing material without second opinions and suggestions?
If you want second opinions you don't start solo projects, hehehe. But I see what you mean, and yes sometimes second opinions would be nice. That being said I have had second opinions during the process of making Løyndom. Like Bjørnar E. Nilsen for instance, who engineered the drum recordings. He had a thought or two on both the drumming and songs that I really liked and of course used.
By the way: how was the title of the album picked?
Løyndom means "hidden" in Norwegian and I picked the title out of different aspects really. One is that I use my own løyndom, or inner self in a lot of the creative work with Slegest. Another aspect is that in our modern world we are bombarded with so much nonsense it is almost unbelievable. We must watch our step in this brown fog of bullshit, and it seems to me that the important things like surroundings, nature and own will has become something hidden in our modern world.
About the artwork: it is gorgeous! How would you relate that cover image with your music and specifically, this album?
Thanks! A good friend, Mr Sør (who also plays guitar in the live linup for Slegest), made me aware of a p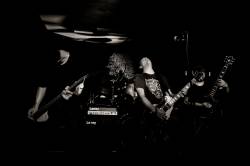 ainting by Nikolai Astrup some years ago. The painting is of a tree in a beautiful environment, and the trunk of the tree is formed as a human giving the painting a frightening and threatening mood. To me it definitely has some Løyndom to it. I asked another friend, Jan Magne Vigdal, to do a drawing of the tree with white pencil on black paper. In my eyes it fits both the album and the music on it.
You have also released a video for "Ho Som Haustar Aleine". Did the video ended up being how you had envisioned it? Why this song?
That was somewhat a coincidence really. Ørjan Talle and Håvard Nesbø, two skilled photographers from Systrond (where I live), simply wanted to do a video on it and they had this idea on how to do it. I like both a good idea and people who obviously has a fire for what they are doing so I said ok, and the result was very satisfying. It also was a good challenge and a good way to present the Slegest live lineup. I chose the song because it is a nice piece of harsh heavy rock!
Now you have a band together and you are going to play live. Where will fans be able to see you guys?
We are booked for some festivals and concerts in Norway and we look forward to start doing shows. We also want to play other countries of course, and are ready for what ever comes our way. Hopefully Slegest will hit the road in not too long. If anybody reading this would like to help out, don't hesitate to ask your local club or festival to book Slegest.
How can the fans get your album or even get more information about you guys?
It should be available where they usually buy music. If not it can be ordered directly from the band through our facebook or webpage www.slegest.no. It is also available through Dark Essence Records webshop.
Any messages to the Spirit of Metal readers?
Thanks for your time and interest. Keep listening to metal!
r>