After 5 years of wait, fans of the Norwegian black metal band SARKOM have a big reason to be exited: the band has released "Doomsday Elite". Now they are getting ready to hit the road!
Do you want to know a bit more about this release, upcoming tour and future plans? Take a look at the chat that SOM had with the bass guitar player Sgt. V!!!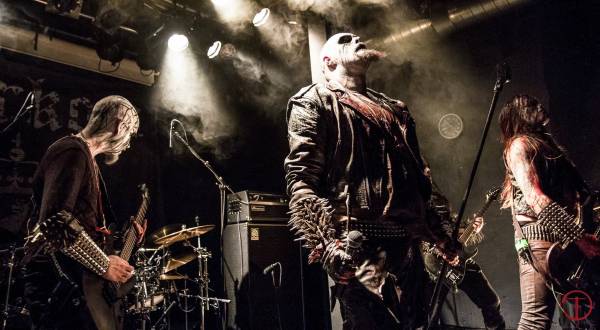 After 5 years without a full length album release, you guys have released "Doomsday Elite" back in October. How does it feel to be "back in business"?
It feels good actually. When things take this long, it can sometimes feel like the whole thing was put on ice, and some of the "spirit" fades away, but we have no one to blame but our selves. It took us 5 years to finish this album, and we eager more than ever to spread doom, insults and lousy behavior in general where ever we go.
This album has been received very well by critics… there is a lot of excitement surrounding it. Any reaction that has actually surprised you guys so far?
It's surprising that everyone seems to like it so much! The feedback has been overwhelming, and that's of course a good feeling. We've spent a long time creating this album, and it would be sad if everyone just threw it away.
"Doomsday Elite" has a very impressive cover art. How was the cover created? Was it your idea?
Well, there's dead people, burning religious structures.. It symbolizes what can be heard on the album, how the world has both evolved and most likely will end up in the future. The layout was executed by a Polish guy who calls himself Perversor. You can search him up on the web under CURSED ART.
About the album itself: any main topics behind it? Any major inspiration lyrics wise?
I have not written the lyrics, and can't really explain what goes on inside Unsgaards head when he writes. The themes are Downfall of society, destruction of and through religion and everything that comes with that. In general, the negativity in mankind, the darkness of souls, and the tyranny of belief in made-up icons.
I've noticed that for the first time, one of your songs has a title in Norwegian (I utakt med Gud). Anything particular about this song to be written in Norwegi
an?
The lyrics for this track was written by Kvass of Koldbrann, and I'm really not the one to ask about the whereabouts.
About the "promotion" part of the album: when will fans be able to see you guys outside Norway?
As soon as possible, I hope! Right now I'm quite busy with my other bands, Magister Templi and Svarttjern, but in a couple of months I hope we have more news.
Any summer festivals in the plans?
At the moment we have no confirmed festivals for the summer. But the summer is still a long way into the future, so maybe you'll see us on a poster somewhere.
You have announced a few dates in Norway with a new lineup. Who will be playing? Will this be the permanent lineup for the next tours?
As my self and Unsgaard are the only ones left from the previous line-up, it's natural that we had to replace the others. 'Defest' (Svarthaueg) has joined in on drums, and guitars are handeled by 'M. Straff' (Mobilize) and 'Thrawn' (Paradigma, ex-DHG, ex-Nocturnal Breed). We have been rehearsing for some weeks now, and hopefully we are comfortable standing on stage together as well. If we all are satisfied, I guess this will be the line-up for the future.
About the metal scene now: there were many big and good album releases this year, with many bands taking a more of a "rock n roll" or even atmospheric approach to their music. Is this a good approach in you opinion? Did you enjoy any release of this type this year?
It is hard for me to know exactly what bands and album you have in mind, as there's no guarantee we have the same feelings about music. For me feeling is everything, next to sound. As for that, I'm quite satisfied with this (last) years releases! RANGER and BÖLZER EP's are among the best in my opinion. CELESTIAL BLOODSHED, MAGIC CIRCLE, DEAD LORD, OBLITERATION and DARKTHRONE are also worth mentioning.
Unfortunately there are still many of the 2013 releases I haven't had time to check out yet, and some I probably forgot at the moment of writing this, so this is not an absolute list. Regarding the first part of your question, I think it's a good thing as long as bands don't forget the past. If one only gets influenced by the "latest news", the good old beginning will be lost. Remember, back in the late 70's and early 80's bands played for the passion, and not to "make it" because it was so simple to get something released. There was a lot more soul, and that's a thing that should never be forgotten.
Nowadays I'm often amused by the amount of bands out there, good bands. In your opinion, what makes a band stand out in the middle of such huge population of good bands?
If there's only three ways to define a band, and that would be either: bad, OK or good, you could probably figure this out yourself. This is not a negative ranking at all, but if you put on an album and think it's OK, you can't really say it sticks out, can you? But when you listen to something and your body hair erects, then you know it's good. For me, as mentioned above, it's all about the feeling and the sound. If I can't enjoy the sound, I can't enjoy the music, and if it has no soul what so ever, I won't remember it as anything special.
Back to Sarkom now: a new album and shows coming up. Any other plans for 2014?
We have 3 more shows to do before we are finished with our Norwegian "tour" this winter. After that we will start to rehearse our new tracks and hopefully record it before summer. There is also a vinyl-release of Doomsday Elite coming out i March, and who knows, maybe we'll bee seen at some festival-posters later this year?
Any messages to the Spirit of Metal readers?
Well, if any of the readers find this interesting, make sure to check us out on Facebook for the latest news etc.
r>