Arkona, the Pagan Folk Metal band from Russia, has toured North America for the first time in 2011. Spirit of Metal had the pleasure to meet with their lead singer Masha and their guitar player Sergei to talk a little bit about the band, their albums, inspirations, etc. Check it out!!
*** IMPORTANT: This interview was done with the help of a translator (S.NAIBOK - Thank you so much!). Unfortunately, even with a lot of effort from the translator, there were bits that were lost in translation. The answers you see below are a result from several translations from English to Russian and from Russian to English. So, they are not the exact same words that were used by the musicians. They are the summarized answers given by the translator, based on the answers from the musicians.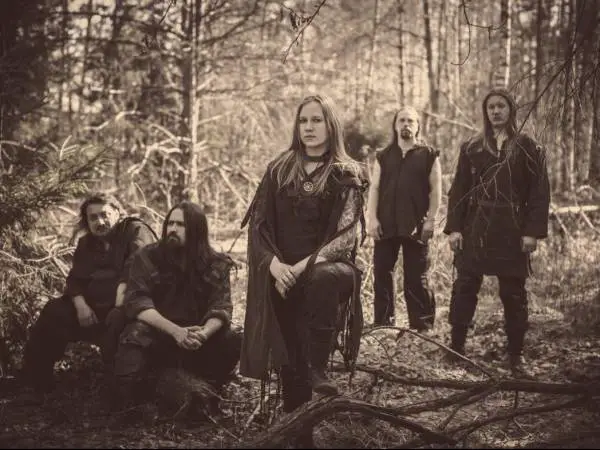 To start… could you say a few words about Arkona's music to the reader who may not yet know you?
Masha: Our style is pagan folk metal and our lyrics are about Russian folklore.
How did Arkona start?
Sergei: The original founder of Arkona was the band's drummer. This musician is no longer with the band. I'm Masha's husband. In the beginning Masha was playing with Arkona and I was playing in another band.
Masha's band split up, so we [Sergei's band] started to play with her. So now basically, she is writing songs and we are playing music.
What were your inspirations?
Sergei: She started listening to this type of music in the beginning of the 90's. Our band [Sergei's band] also inspired her.
You guys are finally here in North America. How has this experience been so far?
Sergei: Europe is completely different from Russia. US is very similar to Russia, especially cities like Seattle and Portland. Hollywood is a little bit different but overall it [US] is closer to Russian atmospheres than Europe.
So, you guys like it here?
Sergei: Yes!! Super!! We really, really like it.
Have the concerts been good so far?
Sergei: Yes, the concerts have been really good b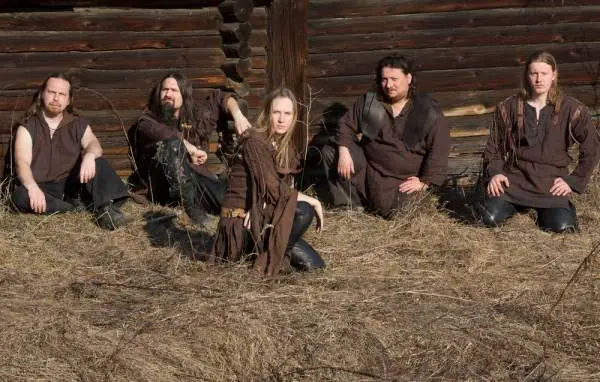 ecause people know us here. There are some Russians who come to the concerts because they know us and support us. People come to see Korpiklaani and us, they know us and they support us.
You have also been announced on the next Pagan Fest here in North America for next year… are you excited?
Sergei: We really like this tour now because it is the first one, so we are more "emotional" about it. I think the next one will be "calmer".
You have released "Slovo" this year. Can you talk a little bit about the album and its main messages?
Sergei: Basically we try to deliver a message through Russian folklore so people can feel our energy. The lyrics in the album have many different themes. They are basically a modern style of Russian paganism.
Your albums are famous for being elaborate, with many special guests, different instruments, chorus, etc. Was "Slovo" done in any different way when comparing to the previous album recordings?
Masha: All albums are different. Each album is different from the previous one. And each of them delivers a different energy.
Sergei: We also used different musical instruments and we try to be different searching for new inspirations in new styles.
How is the writing process distributed between all of you?
Sergei: Masha does all the writin
g.
You have so much energy on stage. Correct me if I'm wrong but you do seem like you have a lot of "love" for your music. How do you get all this feeling onstage?
Masha: When I'm onstage I feel the energy coming from the public. If I feel that the public and my fans feel happy about what I do, I will feel the same way about what I do. This is kind of what gets me inspired.
You are not only a woman in metal, but also a mom. How do you work out your band schedule with your family schedule?
Sergei: Without Masha's mom it wouldn't be possible.
Masha: My mom is really helpful; she helps us with the kids.
Do you think that you inspire people to learn more about paganism?
Sergei: We don't do any propaganda… we just do what we love. We respect everybody's opinion. If people love what we love, we are happy about it. If they don't, they don't.
But do you think that people may get curious and learn more about paganism because of you?
Sergei: I think that because of our music people get curious and start studying more history about this topic. We are glad about this.
Any messages you would like to send to the SOM readers?
Sergei: Love each other, love your parents! Take of your self and your health!
r>