Death Metal
Mortification (AUS)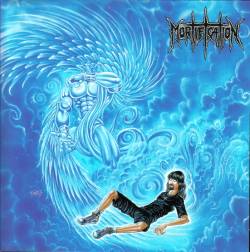 Nom du groupe
Mortification (AUS)
Nom de l'album
Triumph of Mercy
Date de parution
06 Octobre 1998
Membres possèdant cet album
17
Tracklist
Re-Issue in 2008 by Metal Mind Productions with 4 bonustracks.

1.

At War with War

04:54

2.

Triumph of Mercy

07:00

3.

Welcome to the Palodrome

04:16

4.

From your Side

04:18

5.

Influence

05:36

6.

Drain Dweller

02:46

7.

Raw Is the Stonewood Temple

04:20

8.

Unified Truth

05:02

9.

Visited by an Angel

04:22

Bonustracks (Re-Issue 2008)

10.

Dead Man Walking (Studio)

11.

Influence (Live)

12.

God Shape Void (Studio)

13.

3 of a Kind (Studio)

Total playing time

42:34
Commentaire @ Bourrin

22 Mai 2005
Septembre
'96 : un drame survient ! Steve Rowe, bassiste/leader/chanteur de
Mortification
se trouve atteint d'une leucémie. Après un traitement pénible et qui se révélait inéfficace à ses débuts, Steve Rowe a, à force de prier, survécu !!!
Dès sa guérison, il se lance dans l'enregistrement de "
Triumph
of
Mercy
", album composé en partie lors de sa maladie. Dans le morceau titre (sublime !) il nous raconte ses périples et nous explique comment Dieu l'a sauvé. D'ailleurs la magnifique pochette l'illustre : elle représente Steve lui même sous la protection de Dieu.
L'album est très aboutie et tous les titres sont très bon (ou excellents comme "At Wars With
War
", "Triumpf Of
Mercy
", "Welcome To The Palodrome", "Influence", "Unified Truth" et le très inspiré "Visited By An
Angel
).
Le seul défaut de cet album est je trouve la production : je trouve le son un peu bizare, mais ca n'est pas génant, ca ne nécessite même pas de temps d'adaptation).
Mortification
nous livre un album un peu plus lourd que les précédents (je ne connais cependant pas "Envision Evangeline") et aussi un peu plus sombre, ce qui est compréhensible vu le contexte.
Mortification
est un groupe qui mériterait d'être connu par plus de
Death
metalleux, car il résèrve vraiment de bonne surprises ! Son
Death
est assez originale je trouve ! J'ai hate d'écouter d'autres album (mais ils sont malheureusement difficiles à trouver...sniff)
Autres productions de Mortification (AUS)
Autres albums populaires en Death Metal