Metal Alternatif
Saliva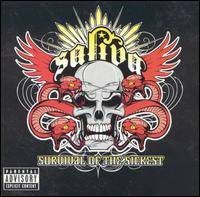 Nom de l'album
Survival of the Sickest
Date de parution
17 Août 2004
Membres possèdant cet album
32
Tracklist
1.

Rock'n'Roll Revolution
2.

Bait & Switch
3.

One Night Only
4.

Survival of the Sickest
5.

No Regrets (vol 2)
6.

Two Steps Back
7.

Open Eyes
8.

Fuck All Y'all
9.

I Want You
10.

Carry On
11.

Razor's Edge
12.

No Hard Feelings
13.

One Second of Silence
14.

Sex, Drugs, & Rock N' Roll
Commentaire @ MakraM

12 Mars 2008
Survival of the Sickest
... Aaah...
Alors celui-là je suis pas prêt de l'oublier.
C'est tout simplement du pur Rock N' Roll comme on l'aime...
Déjà la première chanson, elle motive à écouter l'album en entier... Ainsi que la suivante... Ainsi que la suivante...
C'est vous dire, je ne me rappelle pas avoir mal aimé une chanson... Peut-être "One Second Of
Silence
", le gros délire de l'artiste...
C'est un album très varié en restant toujours calé dans le Hard Rock, sans pour autant ennuyer les auditeurs.
Mais LA merveille de ce CD n'est d'autre que "
Survival of the Sickest
". Basée sur des accords classiques, auxquels ont aussi utilisé beaucoup d'artistes, (notamment "
Marilyn Manson
" avec "
Fight
", mais aussi "
Nirvana
" avec "Smells Like Teen Spirit", sans oublier "Offspring"... etc) cette chanson n'aurait pu être plus classique, mais l'ambiance y est tellement qu'on ne peut pas passer à coté. Sans compter les incontournables tels que "
Sex
, Drugs & Rock N' Roll", ou encore "
Two
Steps Back", "Bait & Switch", ce sont toutes d'excellentes chansons.
Bien entendu, un album de bon Rock N' Roll, c'est vrai que c'est bien, mais ça peut devenir lassant. Que répond notre cher
Saliva
à cela ?
Tout bêtement "No Regrets". C'est vrai quoi, on a bien droit à des chansons d'amour aussi ! Mais est-ce de la vraie douleur que Josey nous fait partager ? Bien sûr que non, il l'aime sa femme Kendra ! Quoique même si on l'écoute plusieurs fois, et que si on comprend les paroles, ça serait impossible de ne pas faire couler quelques larmes...
Conseil de dernière minute: Si vous ne connaissez pas la musique de
Saliva
, c'est avec "
Survival of the Sickest
" qu'il faut la découvrir...
MakraM
Autres productions de Saliva
Autres albums populaires en Metal Alternatif