Black Metal
Hegemon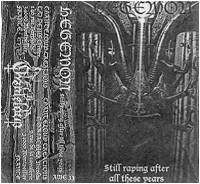 Nom de l'album
Still Raping After All These Years
Membres possèdant cet album
4
Tracklist
1.

Dawnbringer

2.

Stigmata

3.

Howling Silence

4.

Chaos Supreme

5.

Apocalyptic Armageddon

6.

A Wandering Beyond

7.

The Ring of Wisdom
Commentaire @ disgracia
01 Mai 2006
Tape difficilement procurable.(90 copies).
J'ai quand même réussi à mettre la main dessus!
Et il faut avouer que pour ceux qui ont les deux autres albums, elle est loin d'être indispensable.
Elle ne contient que trois titres qui ne figurent pas sur les albums sortis après.

Elle est divisée en deux parties:
-Rape the Banner of Light, sorti en 1997 avec un son assez bon. On distingue bien tous les instruments, surtout la basse.

-La deuxième partie se compose de trois chansons dont deux rééditées sur albums plus tard.
Ici le son est très mauvais!
On ne distingue presque pas les guitares, seulement la basse est audible.
Je ne conseille donc cette démo qu'aux fans acharnés! Comme c'est souvent le cas pour les tapes...
Autres productions de Hegemon
Autres albums populaires en Black Metal