Heavy Thrash
Quorthon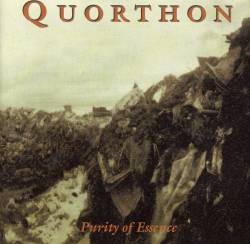 Nom de l'album
Purity of Essence
Date de parution
17 Juin 1997
Membres possèdant cet album
28
Tracklist
DISC 1

1.

Rock 'n' Roll

00:04

2.

I've Had It Coming My Way

03:29

3.

When Our Day Is Through

04:26

4.

One of Those Days

03:59

5.

Cherrybutt and Firefly

03:32

6.

Television

03:41

7.

Hit My Head

05:28

8.

Hump for Fun

03:13

9.

Outta Space

04:06

10.

Fade Away

06:14

11.

I Want Out

04:15

12.

Daddy's Girl

04:18

13.

Coming Down in Pieces

05:50

DISC 2

1.

Roller Coaster

04:07

2.

It's Okay

04:18

3.

All in All I Know

04:18

4.

No Life at All

02:38

5.

An Inch Above the Ground

03:34

6.

The Notforgettin'

04:09

7.

Deep

05:33

8.

Label on the Wind

06:48

9.

Just the Same

04:54

10.

You Just Got to Live

05:03

Total playing time

1:37:57
Aucun article trouvé en Français, les articles de la section anglaise sont affichés.

Chronique @ vikingman369

27 Avril 2011
The last great thrash/grunge album of Quorthon
By the time this
Album
came out,
Quorthon
had more or less gotten enough inspiration to continue through with
Bathory
on his own and had already brought out two thrash
Album
s and the completion of the mysterious
Blood
on Ice concept
Album
. However, our great metal hero still had more to bring out that was not fully in the same vein as
Bathory
.
This brings us to
Purity of Essence
, a two-disc deal that
Quorthon
's last exploration into the world of grunge and regular metal. I rate this so high because the
Album
quality is at the peak of
Quorthon
/
Bathory
's career: right alongside
Destroyer
of Worlds and the Nordland
Album
s. But that's just the start: it's damn hard for me to find something wrong with this
Album
. It's just that good.
Purity of Essence
explodes into life with a groovy, thrashy number "I've Had It Coming My Way." It happens to be one of my favorite
Quorthon
songs of all time, even more so than "
No More
and Never Again." It's short, but there's a lot of good riffs, bad-ass lyrics and guitar-shredding packed into the three-and-a-half minutes of the song.
Since this
Album
is rather long, consisting of two tracks and a total of twenty-three tracks all-together, I'll focus on the ones that really stand out. Track number three, "
When Our Day Is Through
", is a good, strong track that sounds like one of the grunge hits of the 90s and early 21st century. Seriously, turn it on and try hard not to imagine that song playing on the radio. Fortunately, this
Album
succeeds in being hard and fast, but not getting stale. That is because, in addition to a few acoustic/melodic intros in several of the songs, we also have softer numbers to dispel the monotony. After nine, heavy-hitting tracks on the first disc, we get "Fade Away", the soft-track of this side. It really shows that
Quorthon
is capable of writing songs with more emotions than just anger and such. Even more so, there's an acoustic guitar solo on this song: talk about skill!
Now we enter disc two. Does it start as hard as disc one did? There's definitely enough good riffs on this, and plenty of guitar solos in "Roller Coaster." Furthermore, in regards to those who think that
Quorthon
cannot sing, I would invite you to listen to this song: his voice never breaks or sounds off-pitch. In fact, here we find
Quorthon
finding a good, middle ground with his singing voice. As a fellow baritone low-register singer, I now have another great to look up to and admire. Plenty of good tracks on this disc, like "All in All I Know" and "Deep", but there are now more softer tracks as well, to relieve any more monotony. "Just the Same" begins with the soft patting of the rain, and more of
Quorthon
's clean singing. Yes, they might be a little strained, fooling many into thinking it is incompetence. However, wasn't that a part of the grunge scene, strained clean vocals? Besides, I thought that it was the absence of auto-tune that made a singer good. There's a certain realism that his voice has, sounding rough and all, as opposed to clean and automatically in tune. Hells yeah for the whistling solo!
Now we come to the closer track. Sadly, it is just perfect for the last great thrash/grunge
Album
of
Quorthon
. Like "Hammerheart" from
Twilight
Of The Gods
Album
of
Bathory
, "You Just Got To Live" has a conclusive air about it that really helps us realize that this is his last
Album
of his solo project. Besides that, it is a testament to living. Just existing and experiencing the beauty of life: a sharp contrast to the death, blood, Satanism and Nordic atmosphere of old
Bathory
. Though it is a soft track and not a true "heavy" song, it is a more fitting conclusion to
Quorthon
's saga than "The Wheel of Sun" from Nordland II.
It is really sad, in my opinion, that
Quorthon
's solo material never got recognized. It is truly amazing, not just because it is different than his older material, but because it shows off his skill at being a versatile musician. I hope Dave Grohl is happy that one grunge master lived and died in obscurity, never achieving his due recognition. To me, it is sad. May we enjoy
Quorthon
's music forever.
Autres productions de Quorthon
Autres albums populaires en Heavy Thrash