Black Thrash
Nifelheim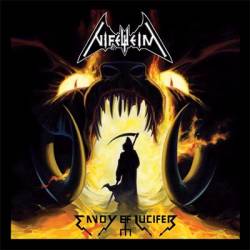 Nom de l'album
Envoy of Lucifer
Date de parution
19 Novembre 2007
Membres possèdant cet album
53
Tracklist
1.

Infernal Flame of Destruction

04:15

2.

Evocation of the End

02:18

3.

Gates of Damnation

04:32

4.

Claws of Death

05:02

5.

Storm of the Reaper

04:16

6.

Envoy of Lucifer

03:27

7.

Evil Is Eternal

04:00

8.

Raging Flames

04:18

9.

Belial's Prey

04:24

10.

No More Life

07:34

Total playing time

44:01
Aucun article trouvé en Français, les articles de la section anglaise sont affichés.

Chronique @ Die4Dethklok
Nifelheim
-
Envoy of Lucifer
The seven year silence has been broken... with wind.
Now, once you've recovered from that interesting bit of information, here's the brutal news.
After "Servants of
Darkness
" in 2001, "
Envoy of Lucifer
" finally saw it's release in 2008. It's an album that within which lies 10 tracks that are all very different to each other, and any other band hailing from the '
Satanic
Black
Metal
' scene.
Track
one opens with a 'spooky' wind sound effect, which leads into a high-pitch, but not 'showy', guitar solo, which prompts a brutally feral scream. The styles within range from the fast thrash of "
Evocation
of the
End
", to the groovy, almost danceable
Rammstein
/
Pantera
-esque feel of "
Storm
of the
Reaper
". Although, if
The Reaper
was storming towards me, I don't think I'd start dancing... lol. Even with the uniqueness of each song, every song is unmistakenly
Nifelheim
... This could be mostly due to the distinctive vocals of "
Hellbutcher
". Whilst he hasn't got a vocal range, he could boast about to the likes of Dani
Filth
(Cradle of
Filth
's legendary vocalist). He uses his voice well, almost in the same way
Ozzy Osbourne
did for
Black Sabbath
, and you couldn't mistake him for anyone else.
This album is a masterpiece, and shows that
Nifelheim
, despite the long silence, are still going strong, and this album is sure to help them achieve the status of unforgettable Black
Metal
'Demigods'.
If you decide to get this album, you have to commit, and listen to the whole thing, because as I've said, each track is unique. If you decide not to buy this album, and you happen to see it somewhere, just pick it up and flick through the booklet for a laugh. You won't find lyrics, but you'll find each member of the band in an amusing pose, with their stage names and job titles... eg, the Drummer "
Insulter
of Jesus Christ" job title "Apocalyptic
Thunder
"... see what I mean ?
For fans of : SATAN
It is hard to name bands that people like, which would suggest they would like
Nifelheim
, but here are a few :
Gorgoroth
,
Children
of Bodom,
Dimmu Borgir
, etc...
Keep it
Metal
Lee 'Leeroy' Murray, A.K.A 'Die4Dethklok'
Autres productions de Nifelheim
Autres albums populaires en Black Thrash