Black Death Brutal
Throneum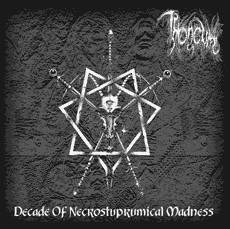 pas de note
Nom de l'album
Decade of Necrostuprumical Madness
Date de parution
22 Août 2006
Membres possèdant cet album
4
Tracklist
1.

Let Them Arise with Your Death

01:57

2.

Decease

02:20

3.

Molested

02:41

4.

Madness Destroys

02:42

5.

Bestial Hordes of Darkness

02:01

6.

Intro

00:23

7.

All Fucking Blood Shed

02:02

8.

Connected with Emptiness

02:38

9.

Scream from Hell

01:59

10.

Ready to Fuck (Sarcófago Cover)

02:40

11.

Worship Death

02:30

12.

Reborn to Stars

03:04

13.

Zombie Attack (Tankard Cover)

02:34

14.

Deathraider (Anthrax Cover)

02:31

15.

Infernal Waves

01:05

16.

Waiting for Perdition

02:10

17.

Stench of Putrefaction

02:49

18.

Profanation (Incantation Cover)

03:27

19.

Dead Crosses

02:11

20.

Ridden with Disease (Autopsy Cover)

03:29

21.

Divus de Mortuus (Necrovore Cover)

02:00

22.

Orders of Doom

01:42

23.

Bloody Parchement Persist

03:41

Total playing time

54:36
Commentaire @ wodulf
Une compilation qui couvre la période la plus intense de Throneum
Pour fêter les dix ans d'existence du groupe,
Throneum
sort cette compilation qui regroupe quelques eps, mais surtout pas mal de morceaux sortis sur des splits ainsi que quelques inédits. Tout cela couvre grosso-modo la période 2002/2006, la plus intense du groupe.
Cela commence avec les deux EP,
The Last Morgue
et Streams Of Agression qui ont, je dirais remis
Throneum
sur les bons rails après un premier album assez moyen. Ensuite c'est la série des splits 7". Il y en a cinq que
Throneum
avait sorti avec
Rebellion
,
Nunslaughter
,
Devilry
,
Lord
Blasphemer
et
Incriminated
. Ce sont soit des inédits dans l'esprit bien bourrin des albums
Pestilent Death
et
Mutiny of Death
soit des reprises. Concernant ces dernières, comme à chaque fois avec
Throneum
, elles sont remises à la sauce du groupe. On a ainsi du
Tankard
("Zombie
Attack
"), du
Anthrax
("Deathraider"), du
Incantation
("
Profanation
"), du
Autopsy
("Ridden With Desease") et du Necrovore ("Divus De
Mortuus
"). Elles nous permettent en plus de mieux comprendre d'où vient
Throneum
.
Une compilation assez indispensable puisqu'elle permet de regrouper en un bloc tous ces 45 tours dont certains sont devenus très dur à trouver mais surtout elle nous propose à chaque fois un
Throneum
au sommet de sa forme.
Autres productions de Throneum
Autres albums populaires en Black Death Brutal