Black Death
Tyrants Blood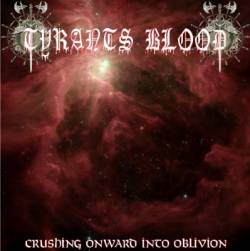 Nom du groupe
Tyrants Blood
Nom de l'album
Crushing Onward into Oblivion
Date de parution
08 Mars 2010
Membres possèdant cet album
2
Tracklist
1.

Cast into Hell
2.

Torn from the Sky
3.

Slitering into Exile
4.

Behold the Conqueror
5.

Deciever
6.

Empire of Acheron
7.

Crushing Onward into oblivion
8.

Slaine : the Berzerker
Aucun article trouvé en Français, les articles de la section anglaise sont affichés.

Chronique @ GandhiEgo
Crushing Onward into Oblivion
is
Tyrants Blood
's sophomore album released this year (March, 2010) on
Invictus
Productions. To be quite honest, I haven't listened to their debut but it garnered only lukewarm praises from what I read and was told by pals of mine who own the record. This new record has seen their style mature and go in the right direction although I wouldn't say it's a flawless record at any cost.
Hailing from Canada,
Tyrants Blood
is what you'd call nowadays an "all-star" band. Within its ranks, pell-mell, you'll find various members of Canada's Hall of Fame for most extreme bands, namely
Infernal
Majesty
,
Blasphemy
or Abuse. Needless to say that it should augur for some relentless blasting and apocalyptical riffing. If that's all you'd look for,
Tyrants Blood
is indeed the right band. No doubt the guys in there have full mastery of their instruments: infernal blasts, insane a-la
Origin
sweeping, these guys know how to bring hell on
Earth
.
On a few tracks, most especially on Slithering into
Exile
or Slaine:
The Berzerker
, you even get some nice breaks almost Heavy
Metal
in essence, you know the kind of stuff made of epic. On the other hand, the blast is so intense throughout the album that it is rather hard to get into it at first. You may want to call me a little wimp but it definitely took me about ten listens to get a full view of it, I mean past that ridiculously fast and solid wall of sound.
Still, with such members and their past references combined, it's a bit disappointing in the end. Although the eponymous track or Slithering into
Exile
are quite memorable, the rest slips in effortlessly but altogether in a very unremarkable fashion.
True
, this is above average Death/Black with a few punky/thrashy parts to it, but it doesn't stand as that perfect record everyone would have loved to listen to from such veterans. It's not utterly brilliant (obviously, it's not crap either) but it is only above average and with these guys' credentials, it certainly sounds as if they didn't put their all into this. Most of the riffing is "common" in the sense that it's been played quite a few hundred times by other bands of the genre and besides the two aforementioned tracks it is rather too bland for my palate.
While not most memorable, it's still a very solid record that will please die-hard fans of the genre but most likely a record that may not turn to be your first pick if you really feel like playing that kind of music. As I wrote earlier, this release is better than their debut and it only proves that there's still room for progression which we will all wait for in their next offering.
Autres productions de Tyrants Blood
Autres albums populaires en Black Death