Al Namrood is a Saudi band that's making music in such hard conditions. I hope you'll like the interview that i've done with them.
How is life in Saudi Arabia?
Oppressive and religion servitude.
You're making albums pretty oftenly. Will there be a new album in 2013?
Of course, a new EP is coming soon, also the 4th full length album is planned.
Is recording something in studio hard? How do you make your music?
Needless to say, it's a difficult mission, music is forbidden in Saudi Arabia, we built our home studio and recording music by ourselves, so it's completely autonomous work.
How were the reactions for the last album ''Kitab Al-Awthan''?
Well, it was positive and motivating most of the time, although we recieved aggressive criticising from Arabian societies.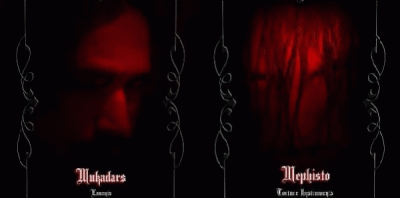 r="#CCCCCC">What about live performances? Is it possible? Have you made any?
In the time being, live performance is not possible, due to line up issues, also, getting public is very dengerous for us, so unless we get out from Saudi Arabia with no return, for secuirity purposes.
Do you have any kind of economic problems?
Not a concern, we are employed and we get fair income.
Is there some other bands from Saudi Arabia that you're friends with?
No, and we do not wish to make a contact due to social/prospective differences.
Do you have some other projects with music or is Al-Namrood the only band that you're spending your time with?
Yes, AlNamrood is our only project.
Do you have any inspirational musicians who were playing the key role that helped you while making music?
Well, our inspiration is conceptual more than musical. We are driven by the bloodshed history of Arabia and the impact of the inherted ignorance and brutality that moved amid ages. Musically, we are motivated by Old school black metal and extreme metal with meaningful theme.

What are your lyrics about?
History, Holy Wars, Arabian roots and ancient narrative aspects.

Are you planning to make a videoclip?
Not soon. Probably in the future.

What are your hobbies out of music?
Reading about History, writing, English poetry, Art, mass communication, discovering various cultures, reading about demography.