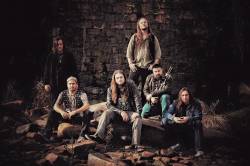 First of all, you got Brazil : its sunny bitches… oups beaches, sorry…
A land wordly repected for its extreme death-metal scene. Then you got celtic
culture, with myths, stories and wonderful melodies. These two worlds would seem
very different. But Tuatha De Danann is the kind of band who doesn't choose
the easiest way to headbang. No, they don't play samba-metal, they don't
play death-metal but a rather complex and unique blend of progressive and death/thrash
with a large dose of pure heavy-metal riffs back from the 80's mixed with
celtic music. Here's an interview i did by email with Tuatha De Danann's
singer Bruno Maia in march 2004.
1. Well, to begin this interview, I'd like to know more about
your strange band name ? Where does it come ?

Tuatha de Danann came from Irish celtic mythology. They are the people of goddess
Danú. A faery race who brought the wisdom, magic, and beauty to the world.
They are the lords of life, death and dreams. An immortal race who still living
in a different dimension. They are the prototypes of the faires, goblins and
pixies of the folklore.
2. Now, is it possible to know more about Tuatha De Danann in the early
years ? What were your motivations when you create this band ? Can you tell
us a kind of history of the band ?

So, we formed the band in 95 under the name Pendragon. At this time our music
was more linked in the death/doom vein, but always with some celtic/medieval
influences. So when we released the first demotape "The last Pendragon",
we have discovered that already has an english band called Pendragon. We had
a music witth the name Tuatha de Danann, and their saga has fascinated me a
lot. So, why not Tuatha de Danann? I think it´s name is a synthesis of
the magical essence we show in our art. In 98 we released the second demotape
"Faeryage", this one brought a band full of celtic influences, with
constants flutes, violins and the rest of the trip... 99 we released our first
ep, "Tuatha de Danann". We did a lot of shows througout all the
country and 2001 we released our fist album : "Tingaralatingadun".
This one sold a lot here in Brazil, it´s the most different album of our
scene ; full of happynes, too many flutes,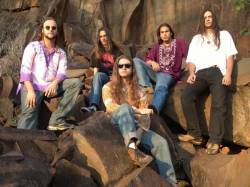 dances, heavy parts and everything
you´re looking for... In dez 2002 we released "The Delirium Has Just
Begun", and of course we´re doing too much gigs and nowadays we
have 3 fan clubs here in Brazil. And the thing is going on… The delirium
still strongh...
3. Your brand new album is titled "The Delirium Has Just Begun"
and is out for a few weeks now. Where did you record it ? Are you satisfied
with the sound you finally got ?

Actually we released "The Delirium..." (as I said above) in december
2002. We recorded it in a studio in São Paulo called Contato and we mastered
in another studio. Here in Brazil, it was released as a Max Stended ep, and
in France as an album with two bonus tracks of our album " Tingaralatingadun".
4. There are a lot of different metal styles in your music. I found
progressive, heavy-metal and death-metal touches, like Amorphis on their early
years. How would you describe your music for the readers ?

It´s very hard to us, because as you said we have a lot of different influences
like : Jethro Tull, Gryphon, Amorphis, Rainbow, Cathedral, Helloween, Carcass,
jazz and of course the wonderul celtic music. So it´s a difficult thing
to us, and we dont like too much labels. But i think we make a delirium metal,
full of flutes and crazyness.
5. I was very impressed when I learned you came from Brazil. In my
mind, it was not the perfect country to propose a band playing metal with celtic
and folkloric influences. Where does your attraction for this particular culture
come from ?

Since i´m a little boy i was fascineted by the celtic culture. So it was
a too normal to me. I studied everything about them : hystory, myhts,r eligion,
music... and till today i´m a lover of the celtic people.
6. Playing a such complex and varied musical style surely represents
a long and hard work in order to execute each part perfectly. How do you work
all together? What member of the band will bring the basis of a new song ?

Yes, all of us in the band play other instruments ; For an exemple I ´m
the vocalist, guitarist, flutist, and i play the acoustic guitars, mandolins...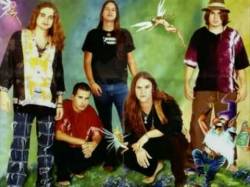 Everybody do a lot of things... The main composers of the band is me and the
other guitarrist Berne.
7. Let's talk about your texts now. Who does write them ? What
are the stories you tell on the new album ?

I write all the lyrics. And I talk about the nature, it´s spirits, the
faeries... Sometimes is a storie like Brazuzan (the giant) or a celtic myth...
But I´m always talking how much the human beign is stupid with the mother
earth and it´s treasures...
8. Several times, when listening to "The Delirium Has Just Begun"
(mainly your folkloric parts), I thought about the "Lord of the Rings"
movies. What do you think about JR Tolkien's recent adaptations on screen
? Would you like to create music for a movie ?

Yes, i like Tolkien, but is not a great influence. One of my dreams is to create
music from movies.
9. How your previous releases have been appreciated outside Brazil
?

It was good but we have not too much promotion, but now with our french label
i think it will be better because I´m already can fell it and see it in
magazines, webzines and everything. We have a Russian label that released all
of ours works... and it´s too good!
10. Is it possible for european metalheads to see you live soon. Maybe
some summer festivals appearances ? Do you often play live outside Brazil ?

My great dream is to play overthere! We must sell the cd´s in France to
make it possible. We really want to play here. If one prommoter interest on
us... get in touch.
11. Do you appreciate some french metal band. When listening to your
new album, it reminds me Sup a few times, mainly on dark vocals. Do you know
them ?

No, from France i know the BranBar… They´re too good! I want to
know more bands. Mysanthrope is french?
12. Last words are yours, thanx for your time.

I want to thank you and all the french press for the supoort.Thank you! And
all of you who´s reading give a chance to us to our magical hyms. Let
the Deliriums catch you... Good to you.
DJ In Extremis
>