Metal
Stam1na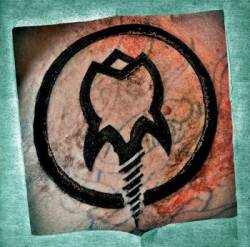 Tracklist
1.

Pirunpaska
2.

Valtiaan Uudet Vaateet
3.

Tavastia Palamaan!
4.

Puolikas Ihminen
5.

Aivohalvaus
6.

Rabies
7.

Lepositeet
8.

Nomad
9.

Ei Encorea
10.

Arveton On Arvoton
在中文中没有找到相关文章, 英语部分的文章已被显示

评阅 @ Tfaaon

11 四月 2012
Another punch in the face from Finland !!
How would it be possible to introduce such a unique band like
Stam1na
?
A band that pushed away the limits of metal, mixing the most extremes genres like thrash, djent, progressive, hardcore and so on, to create a lethal cocktail, highly harmful for your head banger's cervical?
Stam1na
, with
Nocebo
, goes even further than that… Supported by Joe Barresi for this 5th album, our Finnish friends take you in their violent universe and, as always, in Finnish!
Nocebo
begins with the sound of a diapason, which gives the tone of the album, and this in several ways. Indeed, you will hear A-tuned seven strings guitars on this album, and this intro, quite sober but original, is the perfect example of the capacity of
Stam1na
to innovate, from one album to another. I also have to warn all the people that are about to listen to
Nocebo
: enjoy well this fragile A given by the diapason on "Pirunpaska", because this is going to be the unique moment of rest that
Stam1na
will allow you on this album , the latter being clearly the most ambitious and richest of our Finnish friend's discography!
Stam1na
strikes hard, fast and well with
Nocebo
, with songs played with maestria. (A very nice habit of the band!), such as "Valtiaan Uudet Vaateet", the video-single put out by the band few days before the release of
Nocebo
. Some fans could have feared a softening of the band, with their choice of Joe Barresi as producer of the album. (
Tool
, Queens of the
Stone
Age) And, on this very particular point, Hyrde, guitar player/singer of the band, and his pals put away this fear quite swiftly. Indeed,
Stam1na
never made compromises in their music, and, when you think about it, the thought of
Stam1na
doing so would have been completely contrary to the spirit of the band, who still sings in Finnish, forbidding themselves exportations out of Finland.
Still, we can note the presence of English singing (screaming would be more appropriate) on one track of
Nocebo
, this being completely new for the band. An idea that all non-Finnish fans of
Stam1na
will welcome! And it would be a shame not to say that those madmen handle their instruments as good as the writer's feather. Hats off, lads! Moreover, I have to insist on the fact that this English song, "
Nomad
", is a total metal success. Its jerky clean guitar intro (which sounds strangely like
Tool
), its martial rhythmic and the cries sent by Hyrde, which reminds me of
Sepultura
's "
Arise
", are just awesome. This song shows well how
Stam1na
doesn't stay locked in its style, even if this style of crazy brutal metal is already quite unique to the core.
With some more listening of the album, you can realize that it has more sonic experiments than ever on a
Stam1na
album. (egs: the dissonant licks of "Aivohalvaus", the sweet keyboard patterns on "Valtiaan Uudet Vaateet", the epic choruses on "
Rabies
", impossible to give a complete list of them) We can surely give that to the credit of the band, always seeking new things in their music. We can also give the credit to Joe "
Evil
" Barresi, a sound engineer known for his creativity, and his ability to beat off the track.(egs:
Wolfmother
's "Cosmic Egg",
Tool
's "10,000 Days")
Stam1na
's fans know it, the band has loads of musical trumps, and one of them is the fact that they always make amazing and chopped guitar solos, on all of their albums. On
Nocebo
, the lead work is, as always, neat and perfectionist. (Listen "
Nomad
", "Ei Encorea" …) Let us thank Pekka Olkkonen, lead guitar player for most of
Stam1na
's guitar solos and great fan of
Steve Vai
(As seen on the making of
Nocebo
DVD).
Stunning riffs, wonderful choruses ("Arveton on Arvoton"), a great rhythmic section on both bass and drums, the guitar solos which reveal
Stam1na
as one of the most professional band of the metal scene in the world. All those components of the
Stam1na
cocktail, which are there since their first, self-titled album, are still here today!
Stam1na
, once again grew up, and pushed their sound, their music and production further, to offer us what is their most mature piece ever.
Nocebo
is as excellent as its 4 predecessors, a bet which was far from being easy to win!
Stam1na
can be now considered as a "great band" … You know all those bands that created a powerful and unique music, like
Dream Theater
,
Mastodon
,
Opeth
, or even
Metallica
, 30 years ago!
Other productions from Stam1na
Other famous albums in Metal