"Well, we are just the same, we are metalheads too, and we love this kind of music. To me it's like a life style and we are like a huge family… everybody, everywhere we play. " - Do we have to say anything more? Go ahead and check out the entire interview that SOM did with Krisiun's drummer Max Kolesne!!!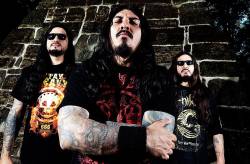 You guys are starting today the tour in North America with Sepultura. What are you guys expecting?
Well, for us is such a great honor to be with Sepultura on tour. For the first time, two Brazilian metal bands [are] touring together in North America so we have a good feeling about this tour. I think it's going to be killer.
Sepultura is a huge influence for us, since the beginning, so… it's awesome.
Sepultura is huge here in the US. So, besides Sepultura fans, do you think there will be a lot of Krisiun fans at the shows?
Definitely, our fans are going to be there. We have a strong following here in the States. We played here for the first time more than 10 years ago and every time we play here we see more and more people coming to see us. We have a strong "following here and most places where we've played. So, there will be definitely people coming to see us too, you know?
You will end this tour with Sepultura but you will meet again at Barge to Hell. Did you guys know they were going to be there when you were "negotiating" the concert?
At first, when they first invited us to be part of the Barge to Hell, we didn't know that Sepultura was going to be there. And then after, when I was checking the bands, I realized that they were going to be there so… it's nice!
What are the plans for after this tour is over?
We will go back to Brazil and we will have a couple of shows there and then we have a few festivals in Europe like RockHard festival. Then a few more shows in South America. We are going to keep rolling, you know?
The new album just came out, two months ago and we are still booking the tours. Before the Barge to Hell we may have a US tour, we are still checking the possibilities… [I'm] not 100% [sure] but I'm certain that something will happen around that time.
You have released a new album end of last year. Tell us a little bit about this album?
Sure. The Great Execution is the title and it's a little bit different from the previous releases. I would say it's more diverse. It's not just fast and brutal like 90
% of the time. We added a little more different rhythms, a little more groovy and slower tempos. But, you know, there's a lot of fast, a lot of brutal stuff. But, it's more diverse, there's more variation from song to song. It's not just blast beats most of the time.

How have been the reactions about this album so far?

Really good! I would say that way better than the previous releases. People really like the idea that we've changed a little bit, not so much, we are still 100% Krisiun, 100% metal to the bone. But, we didn't stay in the comfort zone, we wanted to do something different and people really dig that. Most people really liked it.

Talking about your relationship with your fans… how do you keep contact with them? How do you keep your relationship with them strong?

Well, we are just the same, we are metalheads too, and we love this kind of music. To me it's like a life style and we are like a huge family… everybody, everywhere we play. When we play in Russia for example: they always come to us and they are really happy that we are there, they offer us vodka, they treat us really well. [And that's] everywhere: in Europe, in Brazil, etc. People are similar: they are from different cultures, different countries but they have the same mind frames, the same heart, you know?

And we are not rockstart bullshit or whatever. We like to talk to people, have a beer together… have a good time. We are there for the same reasons, for the music.

And the fact that we have 9 albums out and we never "betrayed" our fans, we never "stabbed" our fans in the back: they really appreciate that. That's why you have like, real die hard fans, you know? They have the band tattoos and stuff, because they know they can trust us.

You have fans all over the world. Could you name the most passionate ones or is that impossible?

Ohh, it's hard to say because everywhere you see some crazy, nutty guy, with a tattoo, with the whole collection [albums] and never misses one show.

I mean, the fans in Brazil are fucking amazing, they feel proud by the fact that we are a Brazilian band and we keep going and keep fighting for this kind of m

usic. But, it's really hard to say.

I know this must be an usual question for you but I have to ask … You guys have the original lineup until today. You are 3 brothers but we know that sometimes, even relationships with brothers in bands don't work out that great. What is your secret? What makes you so united?
Well, I think that the fact that we are 3 brothers helps a lot because when we have two brothers fighting, the third brother will be there trying to like "Come on guys… stop", and it helps a lot. It definitely happened before, a bunch of times. It's always the third guy trying to, like "Come on guys, chill out…. Calm down".

And also: we are bothers and best friends. Sometimes we have arguments, we talk shit to each other but the next day we are going to be friends again, drinking a beer and having a good time together.

Being together, as brothers, as a family can be tough sometimes because we stick together most of the time, you know? Sometimes we get sick of each other. But in the other hand you learn things: how to respect each other, how to be a real man, to get rid of some ego pride bullshit. That's the best way to learn… the hard way.

What does your family think about Krisiun?
They really like, they totally respect and they are proud of it. My mother was even on the Decibel Magazine's "mom" thing they have there. She was really proud about that.

Talking about the Brazilian metal scene: Are there any metal bands from Brazil that people should keep on eye on?
Yeah, there is a bunch of new good bands there and they are working really hard. The band Claustrofobia: they put out a great new album, they are really professional and they are working really hard. I think they are probably one of the next bands to make it overseas.

Yeah, there's a bunch of good new bands like: Confronto, Andralls, Device and Torture Squad. They [Torture Squad] have already played in Europe and have a good name there.

Any messages to SOM readers?
I just want to [say] thank you for the opportunity, to give us the chance to "spread the word". And: stay metal!