Enslaved has been together for 20 years!! To celebrate this occasion the band has toured North American with some really special concerts. During their visit to West Hollywood Grutle has answered SOM some questions about the band's history, new album and EP, tours and future steps. Check it out!!! (This interview has been done by e-mail)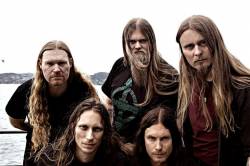 You have just finished the North America tour which was part of the band's 20th Anniversary "celebration". How was the tour? How did the fans react?
It was an amazing journey! Good turn out, a couple of sold out venues, great fans, great drinks, great food, hooking up with old friends. All in all our best headlining tour ever. A perfect celebration of our first 20 years!
20 years! How does it make you feel when you think that Enslaved has been playing for all this time?
It seems like a long time when we think about it, which we seldom do. We were very young when we started, so we are still very far from being burned out. You can easily say that we needed 12-13 years of training before we were ready to roll. Like a good single malt whisky needs time to mature…hehe. What I´m saying is that we have never been a stronger creative force than we are today, fortunately.
Do you have any more plans to celebrate the 20th Anniversary until the end of the year?
Yes, we will have a little party together with colleagues and friends here in Bergen, Norway in the end of November. There are a couple of bands doing Enslaved-covers and loads of eating and drinking, of course!
Talking about the band's history: what was the most memorable moment so far?
It might be somehow unfair to compare stuff from different epochs during 20 years, but my proudest moment is still probably when I held our first official release, the Hordanes Land vinyl, in my hands. The pride I felt then will be hard to overdo!
During these 20 years, have you ever thought about stopping everything? (from metal all together or the band itself)
There will always be ups and downs of course, but the more time you spend doing this, the stronger and more confident you get. Since I´ve been doing this all my adult life (and also before that!), I feel like I´m one with Enslaved. Sto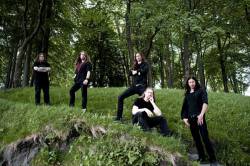 pping is no longer an issue, if it ever was in the earlier years.

You guys have released Axioma Ethica Odini last year. It was a very well reviewed album. Has it been the most successful album for you so far?

In terms of attention, feedback and good reviews, yes. In terms of selling records, no. But of course, things were a lot different when we released "Frost". Downloading didn´t exist, Internet barely existed! And letters and tapes were the shit you know. Although things were very underground back then, we still sold more records. That really says it all.

This year you have released 2 EPs. Why so soon after Axioma Ethica Odini?

TWO Eps is perhaps taking it a bit far…hehe. Thorn is a two song 7". Anyway, the release of Thorn was planned 9-10 years ago, when we first made the deal with Soulseller records. We just didn´t have the time to do it until 2010! The material is older than the "Axioma…" songs, and thus belong to an other era of Enslaved. The Sleeping Gods is a different story; We got contacted by Scion magazine, and they wondered if we would be interested in recording an EP on their expenses. They paid for the studio, and practically gave us a free recording! The songs soon belonged to us. We did not have any new songs at the time, but we had a couple of "skeletons" from back in 1992 and 1993 that we never really put together into proper songs. We then decided to use the best riffs from those old songs, and write something suitable new material to include in those songs. Inspired by this process we wrote a set of new lyrics (we kept some fragments from the old ones), and even two brand new songs ("The Sleeping Gods" and "Synthesis"). It´s kind of a melting pot between old and new Enslaved. A cool experience.

About your lyrics: how do you write them? You use a lot of mythology themes. Why? Do you have some type of special connection with this subject? Do you do a lot of research to write about it?


Absolutely! We use a lot of mythology. Only perhaps in a more subtle way than it was twenty years ago. Our own interpretations of the myths and the runes are a little more advanced and sophisticated nowadays, but it is no problem for a "skilled" person to find the exact references.

An idea of a lyric can come out of everything and nothing, from a book, an experience, a dream, a travel, a movie. You just did an ignition, a spark to start a process. Sometimes you have a lyric in 10 minutes, sometimes the idea spins around for years…maturing again…hehe

Technically… have you guys reached your highest goals? Are you in a place that you have envisioned yourself in since you started to play?
Nah, we don´t think in terms like that. Our goals are somehow utopic, and you can say that the road to the goal is actually the goal. We like to develop, to evolve on all layers. Make the next album better than the last one, don´t look back, just forward. To put it really simple; we like to make our own contemporary favorite music.

Talking about Enslaved in metal. How do you think that you will be remembered in the future? What have been your main "contributions" for this scene?
Difficult to say without being pompous! I hope people regard us as a band that dares following our own path no matter where it leads us. We´re in it for the art, not the money. Maybe that still was a little pompous….

About your future…. What's next? Any main goals for the next few years?
Doing what we´ve always done, try to be creative, try to make good albums, try to play good shows, explore. Living our lives beneath the hammer!

And finally: Anything you would like to say to the readers of the website?
Ah, Tally-ho, yippety-dip, and zing zang spillip. Looking forward to bullying off for the final chukka? Or something completely different….. like; good bye, and see you on tour!